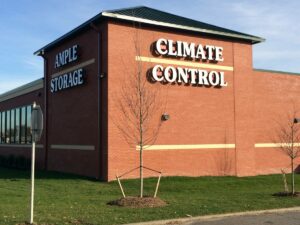 Ample Storage Laburnum
We're experiencing high demand at this facility. Please call for availability!
804-222-4901
* Online rate excludes insurance & admin fee. Promotion applies only to online rate.
Facility Features
Every storage feature is designed from scratch against standards forged from years of experience in the self storage industry. The result is a high quality consistent customer experience you can count on.
Ample Storage Laburnum
Ample Storage Center has two convenient locations in the city of Richmond, VA. Our Laburnum Avenue storage facility features one of the first completely enclosed storage buildings on the East Coast, offering two drive-through aisles so you can access your storage unit in any weather. No more worries about getting your belongings wet or being bothered by outdoor pests while you load your storage unit!
At Ample Storage Laburnum, we're proud to say that many of our loyal customers are so pleased with their self storage experience that they refer family and friends. We are conveniently located at the intersection of Laburnum Avenue and Nine Mile Road.
Features
Moving Supplies
Tenant Insurance
Month-to-Month Leases
Climate Control
Work Shops
Monthly Specials
Camera Surveillance
Boxes
Mon

9:00am - 6:00pm

Tue

9:00am - 6:00pm

Wed

9:00am - 6:00pm

Thu

9:00am - 6:00pm

Fri

9:00am - 6:00pm

Sat

9:00am - 4:00pm

Sun

Closed
Mon

7:00am - 7:00pm

Tue

7:00am - 7:00pm

Wed

7:00am - 7:00pm

Thu

7:00am - 7:00pm

Fri

7:00am - 7:00pm

Sat

7:00am - 7:00pm

Sun

7:00am - 7:00pm