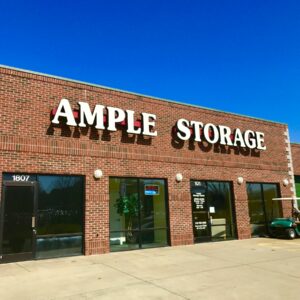 Ample Storage Capital Boulevard
We're experiencing high demand at this facility. Please call for availability!
919-755-6358
* Online rate excludes insurance & admin fee. Promotion applies only to online rate.
Facility Features
Every storage feature is designed from scratch against standards forged from years of experience in the self storage industry. The result is a high quality consistent customer experience you can count on.
Ample Storage Capital Boulevard
At Ample Storage Capital Boulevard in Raleigh, NC, we offer over 400 storage units in a wide range of types and sizes, including large powered workshops. This Raleigh storage facility is equipped with DVR surveillance and 16 new night-vision cameras.
Store with a name you can trust: Ample Storage Center in Raleigh! Ample Storage Capital Boulevard is conveniently located next to Tillery Place in Raleigh, NC.
Features
Moving Supplies
Climate Control
Work Shops
Camera Surveillance
Mon

10:00am - 6:00pm

Tue

10:00am - 6:00pm

Wed

10:00am - 6:00pm

Thu

10:00am - 6:00pm

Fri

10:00am - 6:00pm

Sat

Closed

Sun

Closed
Mon

6:00am - 10:00pm

Tue

6:00am - 10:00pm

Wed

6:00am - 10:00pm

Thu

6:00am - 10:00pm

Fri

6:00am - 10:00pm

Sat

6:00am - 10:00pm

Sun

6:00am - 10:00pm