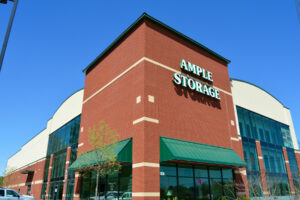 Ample Storage Knightdale
We're experiencing high demand at this facility. Please call for availability!
919-266-0555
* Online rate excludes insurance & admin fee. Promotion applies only to online rate.
Facility Features
Every storage feature is designed from scratch against standards forged from years of experience in the self storage industry. The result is a high quality consistent customer experience you can count on.
Drive-Up Accessible Units
Indoor and Drive-up Accessible Units
Ample Storage Knightdale
Ample Storage Center has a great location in Knightdale, NC. Ample Storage has proudly served the the Raleigh area for over 30 years providing self-storage units. We are conveniently located off of Knightdale Blvd. in Knightdale.
Ample Storage Knightdale makes self-storage easy! On site we sell an array of packing supplies you might need to store your belongings such as boxes, tape, bubble wrap for your delicate items, and locks all at affordable prices! Also, our knowledgeable staff will be able to assist you in finding the most suitable self-storage unit size and type for your possessions. We offer both standard and climate-controlled self-storage spaces and the sizes range from 4×5 to 20×25.
Features
Drive-Up Accessible Units
Moving Supplies
Tenant Insurance
Month-to-Month Leases
Climate Control
Camera Surveillance
Indoor and Drive-up Accessible Units
Mon

10:00am - 6:00pm

Tue

10:00am - 6:00pm

Wed

10:00am - 6:00pm

Thu

10:00am - 6:00pm

Fri

10:00am - 6:00pm

Sat

9:00am - 4:00pm

Sun

Closed
Mon

6:00am - 10:00pm

Tue

6:00am - 10:00pm

Wed

6:00am - 10:00pm

Thu

6:00am - 10:00pm

Fri

6:00am - 10:00pm

Sat

6:00am - 10:00pm

Sun

6:00am - 10:00pm
Great experience!! Taniesha was wonderful!! She was very helpful, very kind, and always pleasant. If I had to rent another storage I would not hesitate to use Ample Storage Knightdale.
Clean modern facilities with friendly, helpful staff.
From the moment I first walked in, to the moment I left I felt so welcomed! The staff at Ample Storage is beyond amazing. The front desk ladies that I worked with were the sweetest most professional individuals I have met. During my tour of the storages, I was given great information and all of my questions were answered. Such a great price as well! I definitely recommend choosing Ample Storage for any storage needs, big or small.
Best storage facility I have used anywhere. Great place, people, and prices. Don't bother with the other places. I have... Others are dirty and poorly staffed.
Customer service was outstanding. Facility was clean and easy to access. Would definitely use Ample Storage again!
Ample Storage is a wonderful place all your "good stuff" when in a pinch or in transition!!! Ample Storage is a place where I can quickly go into my unit for a quick grab of some of my "good stuff", or where I can go and be there a while looking through the "good stuff"!!! The staff is super, super helpful!!! Go Taniesha, you are awesome!!! I highly recommend Ample Storage of Knightdale, NC!!!
The manager was very helpful she got us a space with no problem I appreciate her